Common Variety of Trees Found in the Pacific Northwest
Points of Interest
From the Gallery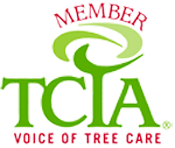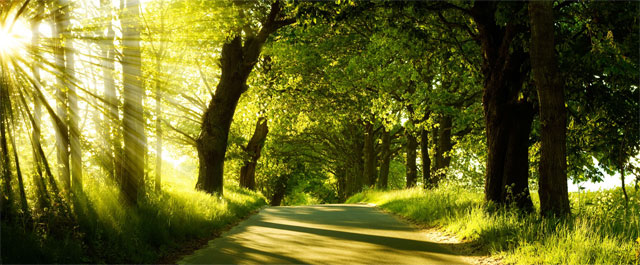 Leyland Cypress Tree: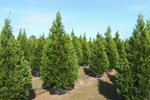 The Leyland cypress - often referred to simply as leylandii, is a fast-growing coniferous evergreen tree much used in horticulture, primarily for hedges and screens. Even on sites of relatively poor culture, plants have been known to grow to heights of 15 metres (49 ft) in 16 years. Their rapid, thick growth means they are sometimes used to enforce privacy.
Leyland cypress is light-demanding but is tolerant of high levels of pollution and salt spray. A hardy, fast-growing natural hybrid, it thrives on a variety of soils and sites and are commonly planted in gardens to provide a quick boundary or shelter hedge, because of their rapid growth. Although widely used for screening, it has not been planted much for forestry purposes. In both forms of the hybrid, Leyland cypress combines the hardiness of the Nootka ...

Learn More
Birch Tree: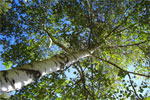 Birch species are generally small to medium-sized trees or shrubs, mostly of temperate climates. The simple leaves are alternate, singly or doubly serrate, feather-veined, petiolate and stipulate. They often appear in pairs, but these pairs are really borne on spur-like, two-leaved, lateral branchlets. The fruit is a small samara, although the wings may be obscure in some species. They differ from the alders (Alnus, other genus in the family) in that the female catkins are not woody and disintegrate at maturity, falling apart to release the seeds, unlike the woody, cone-like female alder catkins.
The bark of all birches is characteristically marked with long, horizontal lenticels, and often separates into thin, papery plates, especially upon the paper birch. It is resistant to decay, due to the resinous oil it contains. Its decided color gives the common names gray, white, black, silver and yellow birch to different species.

Learn More
Maple Tree: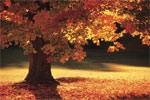 Some species of maple are extensively planted as ornamental trees by homeowners, businesses and municipalities due to their relatively fast growth, ease of transplanting, and lack of hard seeds that would pose a problem for mowing lawns. Particularly popular are Norway Maple (although it is considered invasive in North America), Silver Maple, Japanese Maple, and Red Maple. Other maples, especially smaller or more unusual species, are popular as specimen trees.
A maple leaf is on the coat of arms of Canada, and is on the Canadian flag. The maple is a common symbol of strength and endurance and has been chosen as the national tree of many countries including Canada. Maple leaves are traditionally an important part of Canadian Forces military regalia, for example the military rank insignia for generals use maple leaf symbols. In the literary world, the word maple was first published in Geoffery Chaucer's "The Knights Tale" on line 2,065, spelled as "mapul".

Learn More
Alder Tree: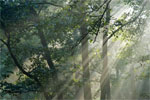 With a few exceptions, alders are deciduous, and the leaves are alternate, simple, and serrated. The flowers are catkins with elongate male catkins on the same plant as shorter female catkins, often before leaves appear; they are mainly wind-pollinated, but also visited by bees to a small extent. These trees differ from the birches (Betula, the other genus in the family) in that the female catkins are woody and do not disintegrate at maturity, opening to release the seeds in a similar manner to many conifer cones.
The largest species are red alder located on the west coast of North America, and black alder native to most of Europe and widely introduced elsewhere, both reaching over 30 m. By contrast, the widespread Alnus viridis (green alder) is rarely more than a 5-m-tall shrub.
The common name "alder" evolved from Old English "alor", which in turn is derived from Proto-Germanic root aliso. The generic name Alnus is the equivalent Latin name. Both the Latin and the Germanic words derive from the Proto-Indo-European root el-, meaning "red" or "brown", which is also a root for the English words "elk" and another tree: "elm", a tree distantly related to the alders.

Learn More
Madrona Tree: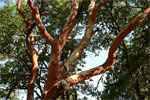 Pacific madrona, madrone or Arbutus, is a species of tree in the family Ericaceae, native to the western coastal areas of North America, from British Columbia to California. It is an evergreen tree with rich orange-red bark that when mature naturally peels away in thin sheets, leaving a greenish, silvery appearance that has a satin sheen and smoothness. The exposed wood sometimes feels cool to the touch. In spring, it bears sprays of small bell-like flowers, and in autumn, red berries. The berries dry up and have hooked barbs that latch onto larger animals for migration. It is common to see madronas of about 10 to 25 metres (33 to 82 ft) in height, but with the right conditions trees may reach up to 30 metres (98 ft). In ideal conditions madronas can also reach a thickness of 5 to 8 feet (1.5 to 2.4 m) at the trunk, much like an oak tree. Leaves are thick with a waxy texture, oval, 7 to 15 centimetres (2.8 to 5.9 in) long and 4 to 8 centimetres (1.6 to 3.1 in) broad, arranged spirally; they are glossy dark green above and a lighter, more grayish green beneath, with an entire margin. The leaves are evergreen, lasting a few years before detaching, but in the north of its range, wet winters often promote a brown to black leaf discoloration due to fungal infections. The stain lasts until the leaves naturally detach at the end of their lifespan.

Learn More
"With Able Tree Service, Inc. and the owner's third generation experience you are guaranteed peace of mind."
Call us today at 360-403-9532 for all of your tree service, pruning, and stump grinding needs.