About - Able Tree Service, Inc.
Points of Interest
From the Gallery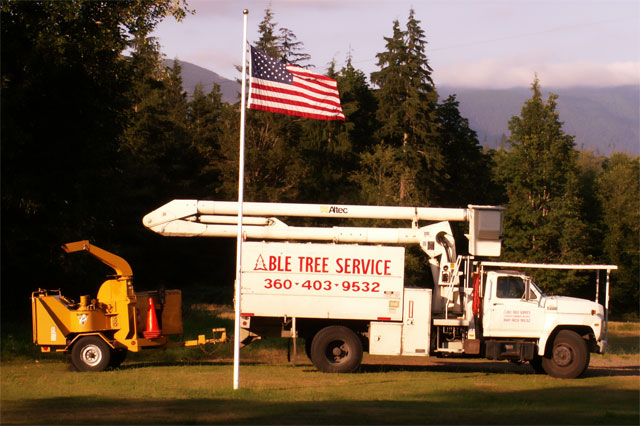 Able Tree Service, Inc. -- Arlington, Washington
Steve Bradley, owner and operator of Able Tree Service, Inc. inherited more than climbing gear from his father thirty years ago, he gained a lifetime of knowledge from him, knowledge that was passed on to him from his father.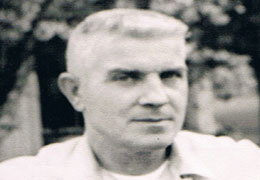 Steve's grandfather, Rush Bradley, a veteran of WWII, established F.R. Bradley logging just shortly after the war ended. Hard work and the respect he earned in the community and the industry paved the way for the future success of his business. The integrity of Rush and his dedication to his family and his work left Steve with a level of understanding for the tree business that is hard to find.

Steve's customer loyalty has proven that his abilities reach beyond his expertise in trees. His willingness to take time to listen to his customers concerns and answer any questions in regards to safety issues or the prevention of any property damage can sometimes be overlooked by other tree service companies.

With Able Tree Service, Inc. and the owner's third generation experience you are guaranteed peace of mind.
You can trust in the 30 plus years of experience that is Able Tree Service, Inc. Dependable, professional, and experienced, Able Tree Service, Inc. will not only get your job done safely and affordably, but will leave your yard or commercial property looking like they were never there. Safety is our number one goal, not only for our employees but for your home and business as well. Our employees are covered under Washington State L & I and if any one of them ever become injured on your property, while doing your prescribed tree service work, there will be no law suits for you to be concerned about.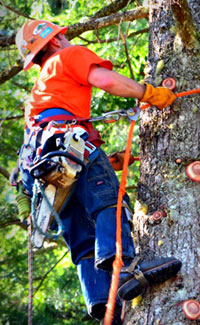 Able Tree Service, Inc. is proud to offer professional commercial tree removal service in Arlington, Mukilteo, Darrington, Everett, Granite Falls, Marysville, Smokey Point, Lakewood, Camano Island, Stanwood, Tulalip, Snohomish, Warm Beach, Lake Goodwin, Lake Stevens, Oso, Silvana, and the surrounding areas of Snohomish County.

We understand that you may have employees and customers coming in and out of your business establishment during the work day and a lengthy or messy tree service could possibly disrupt your business. We always work efficiently so that your business can keep running as usual and maintain a safe and professional work environment, even in the midst of removing trees from your place of business.

In addition, as a commercial entity, you understand how having the right team and equipment can impact a commercial tree removal service. The Able Tree Service, Inc., team consists of highly trained professionals that have years of experience. We have the right equipment to take care of any of your tree service needs.

Able Tree Service, Inc. is fully licensed and insured, and this means that you will have the peace of mind you need and the knowledge that your professional commercial tree removal service needs are in the right hands. We will provide you with a free estimate of the work that needs to be done so that you know your costs up front, and we always provide a fair price for the work we do.

If you have any questions about our commercial services or would like a free estimate, contact us today or call Able Tree Service, Inc. at 360-403-9532
Always be sure to verify if a Tree Service Company is currently licensed, bonded and/or insured. Also, be sure to check for liens, law suits and suspended or expired insurance, bonding, etc ..
Able Tree Service, Inc. is Licensed, Bonded & Insured in the State of Washington. Our State License Number is: #ABLETTS962J3. To verify, please visit the Washington State Department of Labor and Industries or phone 425-290-1400.
"With Able Tree Service, Inc. and the owner's third generation experience, you are guaranteed peace of mind."
Call us today at 360-403-9532 for all of your tree service, pruning, and stump grinding needs.